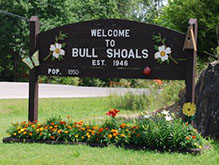 The City of Bull Shoals, Arkansas is located in north central part of Arkansas on Bull Shoals Lake in Marion County at 36° 22'51" N 92° 35' 8" W. Bull Shoals Lake covers 1,050 miles of shoreline with 71,240 acres of lake area. A gentleman by the name of C.S. Woods, Sr. came to Arkansas in the early 1940s and sold land all across northern Arkansas for $1.25 to $3 an acre. Woods incorporated his efforts in 1945, raised $10,000 from investors and bought land from 17 farmers on Newton Flat, totaling about 1,200 acres. With his son, Charles Jr., the two men did much of the work themselves by clearing brush for future streets and sketching street plans on brown paper bags. The street plan was the first official document of the town, filed August 15, 1956. That is the date which marks the beginning of Bull Shoals.
---
Bull Shoals Dam construction was started in 1947 and was complete in 1951. The Dam has 8 generators that can generate 10 million gallons of water per minute. It spands 2,256 feet in length and is 220 feet wide at the base. It rises 263 feet above the river bed. The U.S. Army Corps of Engineers operates and maintains the dam. Southwestern Power Administration wholesales the power within a six state region including Arkansas, Louisiana, Missouri, Oklahoma, Kansas and Texas. About 800,000 megawatt hours of power is sold annually.
---
Bull Shoals Lake area is the perfect playground for water sports, including water skiing, boating, jet skiing, sailing, kayaking, canoeing, snorkeling, scuba diving and swimming. When you are ready to leave the water, there is no limit to the family fun available, from miniature golf to zip lines, hiking to biking, and even horseback riding. You can also visit one of our many attractions including museums, caves and caverns, dams and hatcheries, Arkansas Natural State Parks, Gaston's Visitor Center and local artist studios.
Bull Shoals Lake at 45,440 acres is Arkansas's largest lake with waters stretching across north central Arkansas and across the border into Missouri. Anglers and water sports enthusiasts are drawn to the lake's clear waters and Ozark scenery, and it's considered one of the finest fishing lakes in Arkansas. Anglers can put their skills to the test fishing for lunker bass, crappie, bream and a variety of other fish species found in this fishing paradise.
---
So if you like to catch Large Mouth Bass, Stripers, Rainbow Trout, enjoy boating, tubing, wake boarding, hiking, camping, horseback riding, caving, scuba diving or any other outdoor activities, Bull Shoals, Arkansas is the number one destination for your vacation travels.
---
Bull Shoals Public Library
Tuesday – Friday 10am-3pm
Saturday 10am-12:30pm
1218 Central Blvd
870-445-4265
Library Web Site
---
| | |
| --- | --- |
| | Special thanks to Robert Harper from the Bull Shoals Historical Museum |